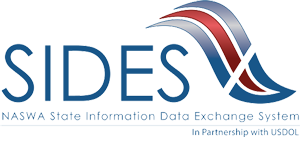 The SIDES E-Response system was updated Wednesday, March 23, 2022. Users may need to update any previous bookmarks for the SIDES site.
Unemployment Insurance (UI) SIDES is a web based system that allows electronic transmission of information requests from UI agencies to employers and/or Third Party Administrators (TPAs), as well as transmission of replies containing the requested information back to the UI agencies.
There are two ways employers can connect with SIDES. For employers with a limited number of UI claims, SIDES E-Response is an easy to use website that can be used to enter the requested UI information. For TPAs, large and/or multi state employers, UI SIDES, a computer-to-computer interface may be more appropriate as it allows employers to customize their system to interface with SIDES. This option requires the employer/TPA to do programming. Learn More
SIDES E-Response: For Employers/TPAs with a limited number of UI claims. Web site interaction – No programming required.
UI SIDES: For large and/or multi-state employers/TPAs. Computer-to-Computer Interface – Computer programming required
The most convenient way to file a request for separation notice is through the free, secure electronic system called the State Information Data Exchange System (SIDES) E-Response. This application allows you to respond to information requests, attach documentation and receive a date-stamped confirmation receipt.
Because SIDES E-Response is a nationally-standardized format, you can communicate with multiple states in which you do business all with the click of a few buttons.
To sign up for SIDES E-Response in South Carolina, please register to setup your account.
Once your account has been activated, you can access SIDES E-Response. Choose separation information, enter your Federal Employer Identification Number (FEIN), State Employer Identification Number (SEIN), and Personal Identification Number (PIN).
If you have questions, you can access the SIDES user guide (PDF) or contact UI-email-ER-Registration-DL@dew.sc.gov.