Filing a weekly claim involves answering questions about whether you worked, earned any income and whether you were able, available and looking for work. Additionally, you must perform at least two online job searches every week through SCWOS. Both tasks ensure that you are paid accurately and timely. More details can be found on the "Find a Job" page. 
A standard claim week begins Sunday and ends the following Saturday. You must certify for a week within 14-days of the end of the week. You will not receive benefits for a week if you did not timely complete your weekly certification for that week. If you are eligible it can take up to three business days after you certify for payments to process. Failing to file, or filing late will affect your payment.
If you physically worked during the week, you must report your gross earnings, which is the amount you earn before taxes or any other deductions; even if you have not been paid yet.
You may complete your weekly certification: 
Online via the MyBenefits portal.

If you don't have computer access, you can apply online using a computer at one of many service locations across the state.

To access DEW on your mobile device, download the DEW App Store.
Claim and Payment Status
You can check the status of your claim 24-hours a day, 7-days a week by accessing your MyBenefits portal from your computer or mobile device. Click on the Dashboard tab and you will see detailed information about your claim and payment status.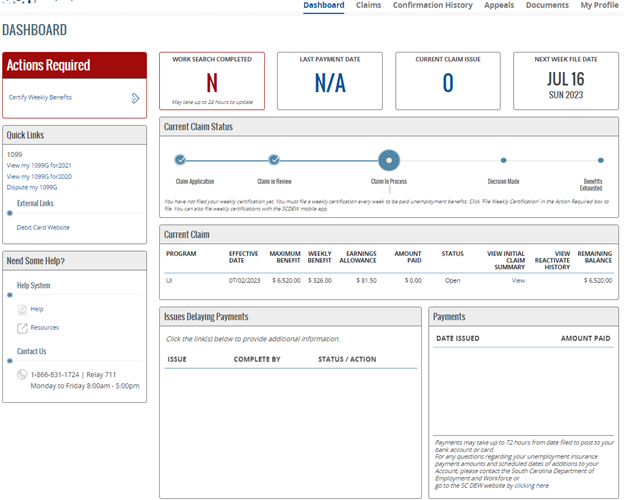 To learn more about managing your benefits view the following links.